Malmesbury River Valleys Trust
Welcome to the new Malmesbury River Valleys Trust website.
We refer you to the 'About the Trust' page for information concerning the Trust including when it was formed, its objectives and work that is carried out by the trust. We also invite you to contact us if you have any questions, wish to offer any feedback, etc.
If you are interested in the activities undertaken by the Trust we would very much like to welcome you as a member.  A membership form can be found by following this link –  (  membership form  ).
The Trust is always pleased to welcome volunteers to help further its objectives.  If you are interested in becoming a volunteer, please view the volunteer policy used by the Trust.  The Trust also encourages young people to become involved and enjoy the many activities the Trust can offer.  In support of this the Trust has adopted a safeguarding children policy to ensure all members and volunteers are aware of the safety measures that we follow.
MALMESBURY RIVER VALLEYS TRUST
CONYGRE MEAD NATURE RESERVE
CAUTION
Hedge Layering work will be taking place on the middle path from the end of October 2017 until February 2018.
Please take care and keep dogs on leads on the middle path and ensure that children are kept away from the area whilst the work is going on.
Thank you for your cooperation.
Please contact Frances Goldstone on 01666 823276 in the event of any queries.
Frances Goldstone
Chair, MRVT
Registered Charity Number 101 5802
Limited Company Number   277 1429
Come and help us celebrate our 25th Anniversary at 7pm on Friday 10th November 2017 in the Wesleyan Room of Malmesbury Town Hall.  Well known local historian Tony and Christine McAleavy is giving an illustrated talk on the history of Conygre Mead and the domestication of rabbits in England.  Win a bottle of champagne and sample delicious canapes kindly provided by the Spice Merchant.
Tickets are £5 and are available from The Work Box in Malmesbury High Street.  Enquiries to Frances Goldstone Tel 01666 823276
The flower shown below was discovered a couple of weeks ago on the wildflower slope.  They were not on our species list and we do not know at what point they arrived in the reserve.  The bee orchid is relatively small (15-20 cm tall) with a rosette of leaves that grow upwards and sheath the stem.  They prefer open well drained grassland and calcareous soil and flower between May and June. The plants are perennial, usually taking several years to flower.  They are characteristically unpredictable and may suddenly appear without warning or disappear from an area where they have been flowering successfully.
We are delighted to have discovered them as they were once considered quite rare.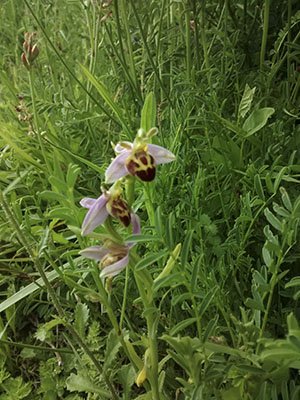 Malmesbury River Valleys Trust:  Limited Company No. 277 1429 Registered Office: 34 West Street, Malmesbury, Wilts SN16 0AR